Avalon Greene

Information
Full Name

Avalon Victoria Greene

Nickname(s)

Av (by Halle)

Gender

Female

Date of Birth

c. 1997 (age 16)

Resides in

New Jersey, USA

Occupation

Student, Co-owner of GeeklyChic

Eye Color

Brown

Hair Color

Orange Red

Family

Mr. Greene (father)
Mrs. Greene (mother)

Romances

Havalon (Best Friends)

Friends

Halle Brandon, Jake Logan, Savannah O'Neil, Emma Reynolds, Kendall Brandon

School

Waterbury High School

Affiliations
Production
Portrayed By
Avalon Victoria  Greene
is a main character in
Frenemies
. She co-runs
GeeklyChic
, a fashion webazine, with
Halle Brandon
, they both have a passion for fashion. She is classified as "chic", and friends with a geek. She is friends with
Savannah O'Neal
and
Emma Reynolds
, and helped them by telling them to switch their lives. When an NYC publishing company is interested in GeeklyChic but only wants one person for the editor position, things get fierce. She is in 9th grade.
Confident, outspoken Avalon has a serious passion for fashion. She is the style genius behind GeeklyChic's fabulous content. When a New York City publishing company is interested in GeeklyChic, but will only hire either her or Halle as editor, she becomes fiercely competitive with her best friend. But Avalon changes the language on Kendall's (Halley's brother), GPS so Halley will be late for the concert and not get the interview.

Memorable Quotes Edit
Avalon: I can't believe we were even BFFs.
Halle: Best friends for never!
---
[Avalon and Halle scream]
Students: Shh!
Avalon and Halle: Sorry.
---
Avalon: [to Halle] I can't just help myself. Fashion intervention!
---
Avalon: [on the phone with Halle] I am excited, so excited!
---
Avalon: [to Halle] You can't talk the talk.
Halle: [to Avalon] Well, you can't write the write... words.
Relationships
Edit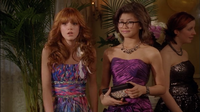 Halley and Avalon are best friends. They started GeeklyChic together. They get in a fight over becoming the leader in charge of the magazine.
Avalon and Savannah are friends. They didn't know each other for most of the movie.
Appearance
Edit
is very natural and bouncy. She has bangs that come
almost down to her eyes. Her hair is long and comes down to about mid back. On occasion, usually when trying to look "better", she straightens her hair, which is not as fitting for her kind of personality and because of that makes her look a bit worse.
Wardrobe:
 Avalon is very stylish and is always dressing in the latest fashion
. She is almost always wearing a cute blouse with a skirt and a belt or a dress. Her shoes are mostly either high heels or boots with heels. She very rarely wears pants of any kind. She accesories with ear rings and braclets.
To view her gallery, click here.